Furnace Installation & Repair in Columbia, MO
Looking for a trusted professional to help with furnace repair or replacement? Call
(573) 777-3660
for immediate service in Columbia, MO.
Not applicable to trip fee. Cannot be combined with other offers. Not valid on prior purchases.
A broken furnace makes enjoying the magic and comfort of winter a little more difficult. Leave your heating troubles to the experts at MasterTech Plumbing, Heating and Cooling. We will figure out the problem and provide you with fast and efficient solutions—while also making sure the job is completed safely and meets local code.
Call now to schedule furnace repair or replacement services in Columbia, MO and the Mid-Missouri area.
Why Work With Our Columbia, MO Furnace Repair Experts?
The technicians at MasterTech Plumbing, Heating and Cooling are committed to helping you stay warm during the winter. Our services begin with a thorough inspection of your heating equipment to identify the affected area. We use a proven system to reveal the main cause of the problem, which allows us to provide you with the best options for repair.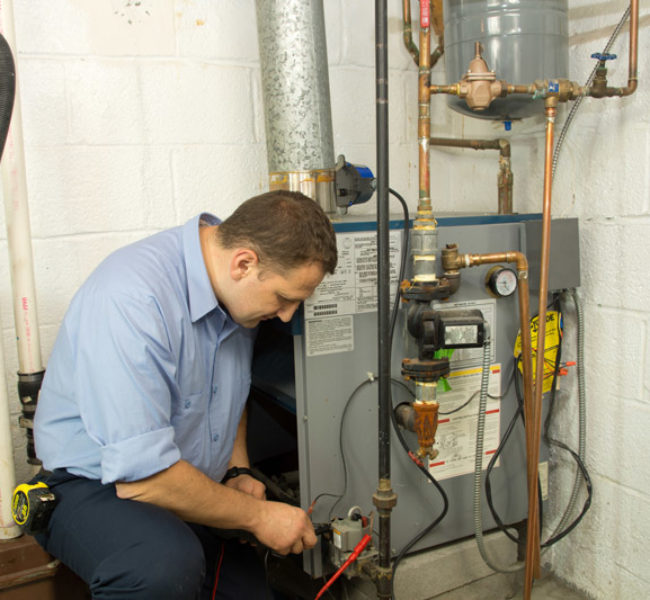 Questions to Ask Before Replacing Your Furnace
Wondering whether you should replace your furnace or continue to repair it? We understand that a new furnace is a major investment. This is why our customers always receive options for repair and are never pressured to replace their system if they are not ready.
However, continuing to repair a failing furnace can cost more over time. If your furnace is long overdue for replacement, we will go over the installation process and help you select a new unit that meets your needs.
Work With Columbia's Top
Plumbers and HVAC Experts
Whether you need your air conditioner repaired, a new furnance installed, or your drains cleared, MasterTech Plumbing, Heating and Cooling is happy to help.
Work With Columbia's Top
Plumbers and HVAC Experts
Whether you need your air conditioner repaired, a new furnance installed, or your drains cleaned, MasterTech Plumbing, Heating and Cooling is happy to help.
Factors to consider before you decide to install a new furnace:
Your heating system or air conditioner can stop working when you least expect it. And we understand just how stressful that can be. It's why we're always available to help around the clock.
A well-maintained gas furnace can last up to 30 years. After that, you may begin to notice inefficiencies and an increase in problems. If your furnace is well over the warranty period and starting to give you more headaches than proper heating, it may be time to look into newer units.
Damaged furnace parts can likely be repaired or replaced without having to replace your entire system. After an initial inspection, our experts will present you with the cause of your furnace problem and help you weigh the costs and advantages of repair versus replacement.
Great service- Thorough investigation into my heating problem. Didn't give up until they found the source. Explained everything they did and why.

...

Very friendly and knowledgeable! Thank you!

read more
Friendly tech and knowledgeable! He used my outdoor clean out tube to snake and clear clogged drain. He took the time to mop up spills made in the

...

house and took the time to take care of us. Found the sewer backing up and master tech had it finished and cleaned 2-3 hours later. Good value too for it being after hours.

read more
On time, always nice. They try to get you the best price. You could find cheaper but the quality will not be as good as MasterTech. I have never

...

had problems with them.

read more
Heather N.
18:49 23 Dec 21
After a plumbing backup turned my house into a revolving door for strangers - who weren't a bit concerned about me, my stuff, my time, etc -

...

MasterTech was a breath of fresh air. The people from MasterTech that came to my house were nice, professional, and so incredibly quick. The big job that needed excavation to be done was even done within a day. I was blown away by how quick they were.Edit: and again, they got to my house quick, figured everything out, and got it back together before reconstruction was supposed to start. I will be sticking with MasterTech.

read more
Maximus R.
17:38 20 Dec 21
Sunday morning and kitchen faucet wouldn't shut off. There was nothing obvious to me. This was a single handle faucet. I shut off water supply to

...

the house and called the Master Tech 24 hour service. The kids and all of the Grandkids were coming over and I needed to have the water on and a functioning faucet. The lady that took my call was friendly and helpful and told me a repairman would soon call me. Shortly thereafter 'John' called and asked what the problem was and recommended that I go out and buy a new faucet and that I was third on his list and he would be here in a couple of hours. John showed up and got to work immediately. Very pleasant man and obviously very skilled. He was done in 15-20 minutes. A big thank you to the lady that answered my original call and to John for his fast and professional service.

read more
MasterTech has the most professional and personable technicians and customer service representatives I've ever encountered. They schedule

...

appointments quickly and arrive on time. A text was sent to my phone with pictures of the three employees who would be installing the system before they arrived. Everything agreed upon and signed for electronically was immediately sent to my email for my records and review.

read more
I've used other plumbing services before but mastertech outshines every plumber I've ever used. Every person I have spoken to, whether it's the

...

customer service rep who took my calls or the technicians, they are all so nice and they are all upfront and tell you exactly what the issue is and what could have caused it. Their prices are also the cheapest I was able to find. I regret not using their services sooner! I've got their number saved in my phone and I'm going to be using them for now on. I've definitely told a few friends about them and have already recommended their services.

read more
Michelle C.
19:43 07 Nov 21
I cannot speak highly enough of Master Tech and their staff. It's currently -8 and I woke up to my home at 54 degrees. I left a voicemail for MT at

...

7:30 and received a call at 8:08 AM and a technician was at my home at 9:40 AM. Snow was blocking my external exhaust on the home, so it couldn't create combustion to turn on the furnace. The fix was rather simple, but took time and thinking through the problem. Tyler was amazing. The service was 10/10 and he really took the time to explain to me what was happening. I have a monthly service plan with this company too - that I started in October - and it's been great. They are always on time, professional, reasonably priced and so good at their job. I cannot recommend them enough!!Just here to say again - Master Tech is the best! I highly recommend the monthly service plan and all their technicians are wonderful! Today, Matt was so great with my furnace set up for the cooler months ahead! I really appreciate having such a wonderful company who I know will treat me right!

read more
The girl at the office called to let me know the technician was on the way and texted me his picture so I would know it was him.Tyler, the

...

technician, was on time. He was friendly, personable and knowledgeable about his work. Did the furnace checkup and installed some filters . He showed me different components on the furnace and where to install the filter.When he was done, Tyler briefed me on his findings.This is my first house with gas, so safety was foremost on my mind. Tyler reassured me that my furnace is operating safely and efficiently so no worries.If I ever have a need, I wont hesitate to call them!MasterTech is fantastic!! Extremely fair pricing as well!

read more
Matt and Nathan came to replace an outside hydrant. Nathan made a great suggestion to move it to a better place. They did a GREAT job and left my

...

place way better than they found it. I am HUGELY grateful. They were professional but super nice and pleasant to work with. They had everything they needed on the spot and were done in no time. I am beyond pleased with their work and would call them again in a heartbeat. I am so relieved to have this work done!

read more
These guys are good! Set up an appointment online and the next day they called to confirm. Yes! Let me know they were on the way. Told me up front

...

how much it would cost and then, did everything he said he would. Polite, clean and kind. They come when you need them! I will call them every single time. Thanks Mastertech!

read more
Since I recently bought a house that's a little older everything is starting to go out at once. I have called Mastertech twice in the past couple of

...

weeks for my water heater and my air conditioner and both times they came out and fixed the issue quickly. They told me the price before they started work and in the case of my water heater they gave me a few different price options based on what repairs they recommended. I have a few more minor things to do still so I will definitely be calling them back. Everyone I dealt with both times in the office and service call were super helpful and friendly. I would definitely recommend if you need something done fast and right.

read more
Allison D.
17:00 09 Aug 21
Save on Your Energy Bill With a New Furnace
Older gas furnaces typically have an AFUE (annual fuel utilization efficiency) rating of 68 to 72 percent. Newer systems boast AFUE ratings of up to 97 percent. If you are looking to lower your winter energy bill, replacing an inefficient furnace can help reduce monthly expenses while you enjoy more reliable heating.
MasterTech Plumbing, Heating and Cooling can help you choose the right furnace for your home, whether gas, oil, or electric. We will also make sure your new system is correctly sized; undersized or oversized units are under more strain to work efficiently and will end up developing problems early on. This is why working with a knowledgeable furnace technician is crucial to the long-term efficiency of your system.
Our Real Time Service Area
Local Reviews
MasterTech Plumbing, Heating and Cooling
Rated
4.8
out of 5 stars based on
1361
customer reviews
Powered by Nearby Now
---
professional service
Julie

-

Columbia

,

MO



Review of MasterTech Plumbing, Heating and Cooling
the two plumbers who worked on several problems at my house were both professional and personable.
---
Our go-to resource
Paula

-

Columbia

,

MO



Review of MasterTech Plumbing, Heating and Cooling
Josh is top-notch. Whenever we have a plumbing issue we speed-dial Master Tech and know we'll get it taken care of.
---
Excellent Work
Jonathan

-

Columbia

,

MO



Review of MasterTech Plumbing, Heating and Cooling
They guys did an excellent job with the new system installation and answering all questions that I had. They worked to make sure everything works great and also looks great as well.
---
Matt M.
Water heater not working in Columbia Missouri
Near
Dunmeyer Ct,

Columbia

,

MO

65203
Ryan H.
Drain cleaning in hallsville
Near
Fairview St,

Hallsville

,

MO

65255
Matt M.
Plumbing inspection in Columbia Missouri
Near
Bent Oak Dr,

Columbia

,

MO

65203
Jon H.
Water heater repair. Columbia
Near
Timber Run Dr,

Columbia

,

MO

65203
Matt M.
Filter change in fayette Missouri
Near
W Davis St,

Fayette

,

MO

65248
Request an estimate for furnace replacement or schedule service for repair in Columbia, MO.