Commercial Plumbing Services in Columbia, MO
Need a commercial plumber ASAP? Call MasterTech Plumbing, Heating and Cooling at
(573) 777-3660
to request immediate plumbing services for your business in Columbia, MO or surrounding areas.
The health of your plumbing system significantly impacts your daily business operations, particularly if you are in the hospitality or food service industry. Our commercial plumbers are committed to helping businesses improve productivity and increase profits through top-notch plumbing solutions.
MasterTech Plumbing, Heating and Cooling provides a full range of commercial plumbing services throughout Columbia, MO and Mid-Missouri. We handle water heater installations, plumbing fixture replacements, repiping, water treatment, and more. 
Give us a call today for quick turnarounds and total peace of mind for you, your staff, and your customers.
Plumbing Solutions for Commercial Properties in Columbia, MO
Leave your drain, sewer, and water quality problems to our team of licensed commercial plumbers. Columbia, MO business owners have relied on our solutions since 1990. We understand the specific plumbing needs of commercial properties in the Mid-Missouri area and will make sure your property complies with local code and ordinances.
In addition to installing and repairing water fountains and ADA-approved toilets, we also provide the following commercial plumbing services:
Restaurants, hotels, and other facilities with food prep stations can't afford to experience frequent drain problems. Avoid interruptions with professional drain cleaning, hydro jetting, or preventive drain maintenance.
Looking for an effective water treatment solution? A water analysis will help you determine which filtration system is best for your property. We can help you install a water softener, reverse osmosis system, water conditioner, and more.
Experiencing water leaks throughout your property? Let our experts assess the problem. We will let you know if a full repipe is necessary.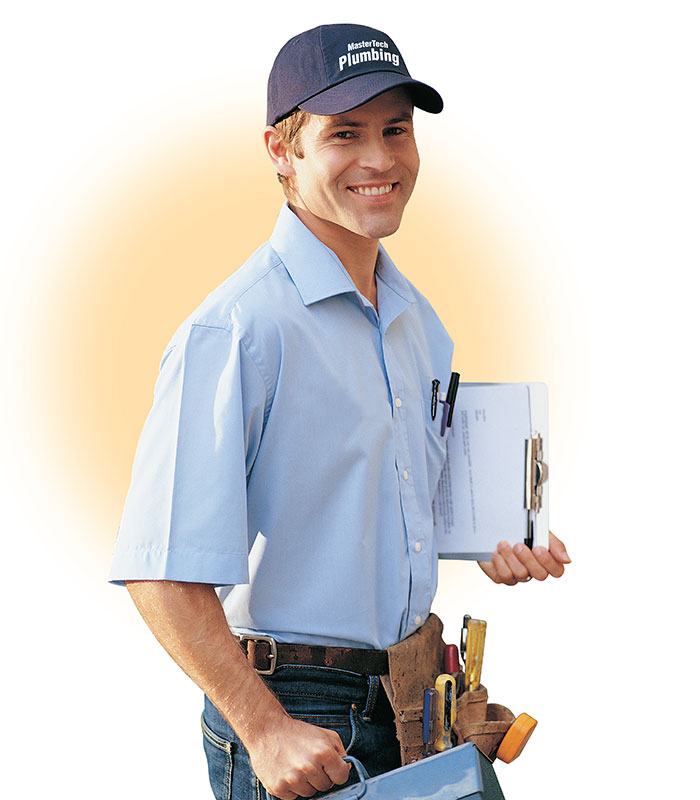 Join Our COM20 Program for Service Discounts
Our COM20 Program is designed for businesses like yours that need timely and professional commercial plumbing services at a fair price. 
As a COM20 member, you are eligible for discounts on repairs and installations. No contracts, no membership fees—just great service at a great price. 
If you're interested in becoming a COM20 member as a business or property manager, please contact our office for application requirements and additional information. 
Work With Columbia's Top
Plumbers and HVAC Experts
Whether you need your air conditioner repaired, a new furnance installed, or your drains cleared, MasterTech Plumbing, Heating and Cooling is happy to help.
Work With Columbia's Top
Plumbers and HVAC Experts
Whether you need your air conditioner repaired, a new furnance installed, or your drains cleaned, MasterTech Plumbing, Heating and Cooling is happy to help.
24/7 Emergency Service Available
We understand that downtime for your business is unacceptable. But plumbing emergencies can happen at any time in high-occupancy buildings. This is why our team is available 24/7 to help with the unexpected. Whether you need help with an overflowing toilet, a burst pipe, a gas leak, or other time-sensitive issue, our experts have you covered. 
Our plumbers arrive in fully-stocked trucks—carrying over 5,000 parts—and will have the problem fixed as quickly as possible so you can return to business as usual without further delay.
Gary was absolutely amazing. The quality of work and customer service received was wonderful. He was knowledgeable and explained everything, answered

...

every question I had, and was helpful not only in the problem we scheduled to address but saved us from a major issue down the road we didn't know we had. I 100% recommend MasterTech and Gary as your technician.

read more
Jon, the tech who came out, was very professional and friendly. I felt comfortable having him in my home, he worked quickly and efficiently, and he

...

was able to answer all my questions without making me feel like an idiot! I emailed them this morning, they responded quickly and Beth suggested their service plans, one of which I signed up for. It was a good experience, a little expensive but they were fast and I'm happy!

read more
Nate was timely, professional and knowledgeable. He was able to talk over different options for the installation of gas lines in my laundry room and

...

kitchen. I appreciate his willingness to try and make the job affordable while maintaining quality. 10/10 would recommend.

read more
Technicians were professional, highly knowledgeable. Service was top-notch.New HVAC system is astonishingly efficient both heating and cooling.

...

Everything was done right the first time, and the installation went extremely fast and flawlessly. Everything was explained to me in a manner that I could understand.Your staff is what makes the company great!

read more
Dillan was excellent. He came for my yearly inspection. He could have rushed through the process, but instead he made a recommendation and ended up

...

spending time in the attic installing a part that could save me more money and headaches down the road. In other words, he didn't cut corners. I appreciate that kind of top-notch service.

read more
Chris showed up as promised, evaluated our problem and offered a solution that gave my father the confidence to allow them to do the work. The

...

estimate was easy to read and made sense. The price was completely reasonable when everything is taken into consideration. These people talk the talk, walk the walk and plumb the plumbing!

read more
I've used MasterTech several times since buying my house in 2021. The office staff are always so friendly and helpful when I call and the technicians

...

always do a great job. Tyler and Kyle came out today to fix my AC and they were punctual, respectful, and friendly! They always end up teaching me helpful things whenever they come out to repair things and as a first time home owner, it's so helpful!

read more
Their employee Nate was fantastic. Had a leak at shut off under house and he helped us with that and never made me feel like a dummy with any of the

...

stuff had done to fix plumbing issues throughout house. He was very knowledgeable and friendly and gave some very helpful tips.

read more
Technician was timely, professional and courteous. He made sure I understood what was going on. And how best to move forward
The Plumber showed up on time and was very professional and courteous. He was able to unclog my sewer pipe very quickly and was reasonably priced! I

...

would definitely recommend them to family and friends! I will use them again in the future!

read more
Guys were able to quickly locate a coolant leak that could have been very expensive but found a much cheaper solution and finished it same day.

...

Installed surge protectors with warranty and got us cooled down again. Very professional and looked to take care of the customer.

read more
jacobcolethomas
20:05 12 Apr 22
Replaced old heat pump and back-up gas furnace with new similar equipment. Got good equipment at great price and absolutely excellent installation.

...

Installers put up with a lot of questions, were very professional, and did excellent work quickly. Couldn't be more pleased with Mastertech overall and especially with great service from the installation team and from the administrative staff. Definitely recommend them.

read more
Call Our Columbia Commercial Plumbers Today
When you work with us, you can always expect upfront and transparent service. We use a six-step approach to diagnosing plumbing problems, allowing us to uncover the source of the issue. 
Once we know what's causing your plumbing problem, we will go over your options for repair or replacement and make sure you have the information you need to make a confident decision. 
Our goal is to help you achieve complete peace of mind so you can concentrate on running your business—not worrying about unexpected plumbing problems!
Our Real Time Service Area
Local Reviews
MasterTech Plumbing, Heating and Cooling
Rated
4.8
out of 5 stars based on
1361
customer reviews
Powered by Nearby Now
---
professional service
Julie

-

Columbia

,

MO



Review of MasterTech Plumbing, Heating and Cooling
the two plumbers who worked on several problems at my house were both professional and personable.
---
Our go-to resource
Paula

-

Columbia

,

MO



Review of MasterTech Plumbing, Heating and Cooling
Josh is top-notch. Whenever we have a plumbing issue we speed-dial Master Tech and know we'll get it taken care of.
---
Excellent Work
Jonathan

-

Columbia

,

MO



Review of MasterTech Plumbing, Heating and Cooling
They guys did an excellent job with the new system installation and answering all questions that I had. They worked to make sure everything works great and also looks great as well.
---
Matt S.
Water line replacement. Moberly MO
Near
W Rollins St,

Moberly

,

MO

65270
Matt M.
Air conditioner tune up in Columbia Missouri
Near
Newcastle Dr,

Columbia

,

MO

65203
Gary B.
New water heater installation Columbia Missouri
Near
Audrain Rd 247,

Centralia

,

MO

65240
Dillan W.
Plumbing inspection and air conditioner inspection and maintenance in Columbia Missouri.
Near
Shenandoah,

Columbia

,

MO

65201
Dillan W.
Plumbing inspection and air conditioner inspection and maintenance in Columbia Missouri.
Near
Wren Wood Dr,

Columbia

,

MO

65202
Enjoy worry-free solutions when you work with MasterTech Plumbing, Heating and Cooling.