At MasterTech Plumbing, Heating and Cooling we believe that every home should be protected from hard water, chlorine, and other contaminants. 
As part of our commitment to helping our neighbors enjoy better water quality, we offer in-house financing exclusively for water treatment services. 
Give our Columbia, MO water filtration experts a call today to learn more about the different filter options available and treat your family—and your plumbing system—to cleaner, healthier drinking water! 
Should You Install a Whole-House Filter or Point-of-Use Filter?
While point-of-use filters are convenient, easier to set up, and easy on the budget, they aren't able to match the comprehensive treatment provided by whole-house filters. 
Point-of-use systems only treat water before it reaches the designated tap. Whole-house filters, on the other hand, treat your water before it enters your home.
If you are simply looking for clean drinking water in the kitchen, a point-of-use filter is an effective solution. But if you need to filter water from more than one source, whole-house filters are the better choice; they can protect your plumbing and appliances from contaminants, as well as deliver clean, fresh water throughout your home—including your shower, bathrooms, kitchen, and laundry. 
Let Us Help You Find the Right Water Filter For Your Home
An initial water quality test will help us provide you with the right type of filter. A common problem affecting water throughout the Mid-Missouri area is chlorine. While chlorine does help kill bacteria, it's not good for your plumbing and can even affect your health over time. 
Other contaminants typically found in our water supply include lead, nitrates/nitrites, and radon. Hard water is also common; this involves a high concentration of calcium and magnesium, and can cause your laundry to fade faster, leave your hair or skin feeling dry and itchy, and clog your plumbing system.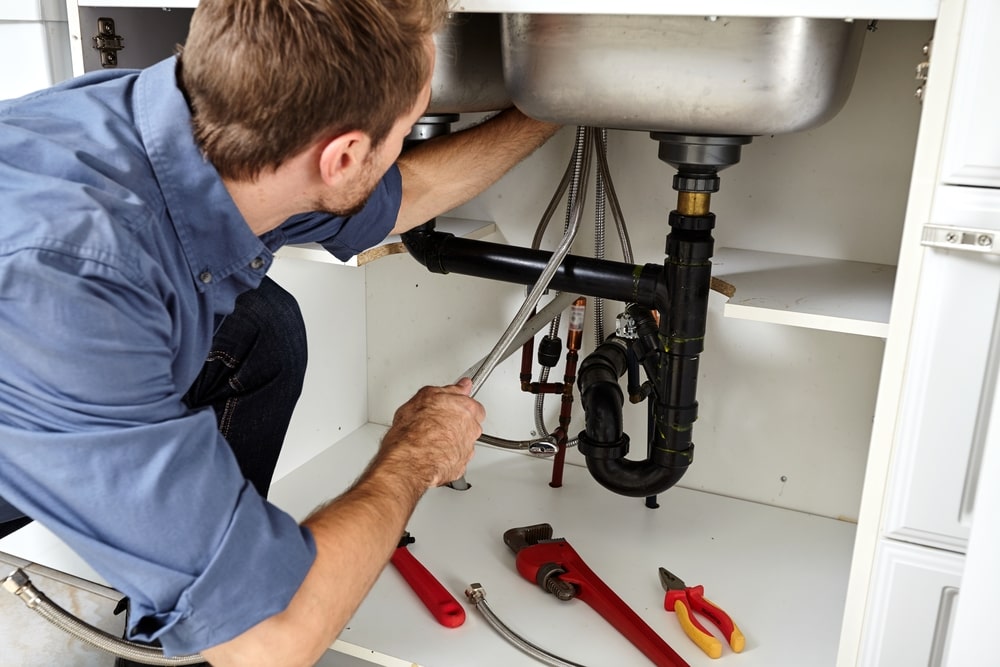 Our experts will supply you with the appropriate filtration system based on the contaminants affecting your water supply. These include:
Work With Columbia's Top
Plumbers and HVAC Experts
Whether you need your air conditioner repaired, a new furnance installed, or your drains cleared, MasterTech Plumbing, Heating and Cooling is happy to help.
Work With Columbia's Top
Plumbers and HVAC Experts
Whether you need your air conditioner repaired, a new furnance installed, or your drains cleaned, MasterTech Plumbing, Heating and Cooling is happy to help.
Contact Our Water Treatment Team Today
Leave your water quality issues to MasterTech Plumbing, Heating and Cooling. We are committed to our customers' peace of mind and will make sure your new water filtration system meets your specific needs. 
We can also help you repair, maintain, and replace your existing system so you can continue to enjoy clean water without interruption. Expect upfront pricing, personal attention, and quality solutions with every service call. 
Stop worrying about your water and start enjoying the benefits that come with a whole-house water filter—including great-tasting water, less plumbing problems, and appliances that last longer. 
Josh Burleson installed our Home Depot purchased water softener. He was on time for the appointment, very professional and addressed all our

...

questions. He was very neat in his work and cleanup. We would highly recommend calling MasterTech and Josh for all your needs.

read more

Bette Everman
22:48 29 Jun 20
Professional, personable and informative! I am on their yearly Check-Up plan for heating and cooling. Great price for a GREAT service.

Dorsey Ragland
17:55 29 Jun 20
Devon W. was a pleasure to work with. Efficient, clean, knowledgeable. Happy to have me sit with him while he worked so I could ask random plumbing

...

questions that have always intrigued me. Highly recommend this business and Devin!

read more

Pete Goodman
19:17 18 Jun 20
Chad arrived promptly when I was notified he was in route to my house. He was very friendly and professional and keeping social distancing practices.

...

He was able to give options to get the result I needed. The cost was lower than what I had in mind and was completed in about an hour.I felt bad for him because it was hot and humid today (about 90) and the issue was outside of the house in direct sun...I set up a patio umbrella to cast some shade on him while he worked.Thanks again Chad! I will be calling MasterTech Plumbing for any other plumbing issues that arise!

read more

Alen Petty
18:22 03 Jun 20
Isaac and Alex removed a dead snake from my AC unit. They were professional and kind with a great sense of humor given the situation. They checked

...

everything out to ensure it ran correctly and gave me an upfront price. I was quite satisfied.

read more

Katie Ensign
17:54 01 Jun 20
Josh was so awsome! I had a "simple" leak in my faucet. He got the parts from his truck and fixed it like new, which is saying a lot as this faucet

...

is over 10 years old. Very knowledgeable and friendly!

read more

Betsy Kuhn
22:24 28 May 20
We had a great experience with Mastertech Plumbing from the time we made the phone call to request service. Our plumber Tyson was friendly,

...

knowledgeable & professional. I would highly recommend this company & him for any plumbing needs.

read more

Jamie Hogan
17:40 22 May 20
I had a clogged drain that needed professional assistance. MasterTech was able to get Devin out to my house to fix our issue in record time. Devin

...

was great and very professional and made sure the issue was fixed, the work area was clean and that I was satisfied with his work before he left. I highly recommend MasterTech.

read more

Jeffery James
17:01 08 May 20
When I called, the phone was answered by a pleasant service representative that remembered me and was understanding to my immediate need. MasterTech

...

Plumbing tech Chad was very professional and friendly. He kept me informed of all what was wrong and didn't try to up sell anything. I really appreciate Chad's skillful knowledge. The quality of his work is exceptional. I know I can rely on Chad and MasterTech Plumbing.

read more

Angela Hernandez
02:12 08 Apr 20
The service we received today was awesome! Punctual, efficient, and up front and honest about prices and what products that we needed. Excellent work.

Cole Stoecklein
14:52 18 Mar 20
Josh is great! He is the one who usually comes to our house. He installed an overhead tank toilet, which is a tricky and time-consuming job. He

...

overcame many obstacles and stuck with it until the job was completed and done right. Price was also good. MasterTech has always taken care of all our needs in a prompt and professional manner. Emergency service has always been rapid too.

read more

Michael Lewis
17:24 11 Mar 20
Chris was great. Dispatch was great. We were scheduled quickly. Prices were very competitive. Edit: We had great success having our pipes fixed. Due

...

to Missouri weather things were touch and go but Master Tech sure delivered! We are so please with the fix, financing and friendliness Master tech and our technician Chris Gilpin provided us. Will forever and always us Master tech. Certainly mighty nice people

read more

Kimberly Threatt
01:30 29 Feb 20
We had to have emergency service today, Saturday. A serviceman was here in less than an hour. The repairs were made quickly, the charge was not

...

over the top, even though it was not a work day, and the individual was friendly and courteous. We have learned to expect this kind of service from Master Tech. Thank you.

read more

Barbara Timbrook
03:48 26 Jan 20
I recommend MasterTech. They show up when they tell you they will show up. They provide a comprehensive estimate and also a good explanation of the

...

work that need to be done. Their work is good quality. They usually have the needed parts on their truck so they can do the task in a timely manner. They clean up the work area after the job is finished,

read more

Dennis Catlett
22:15 23 Jan 20
A great experience. First, on time, service tech was sent out when promised. Second, quick assessment of the problem (faulty sump pump). The tech

...

not only quickly replaced the pump, but he made an alteration that will make it easier whenever a replacement has to be made. Bottom line, a most professional service. Certainly would recommend Master Tech to folks needing their service.

read more

W B Tichenor
16:08 31 Dec 19
MasterTech is so great to work with. They're quick, clean, do great work, and have fair pricing. But the best thing about MasterTech is their people.

...

Whoever is responsible for their human resources does a terrific job of selecting and/or training them. They're so friendly and provide excellent information and customer service. I highly recommend MasterTech!

read more

Jason Black
20:37 26 Dec 19
Previously I had not been impressed with master tech. However, their technician Dillon not only fixed my emergency pipe break at 1am on a holiday but

...

also saved me as a customer. This was the best service I have ever had at my home. He arrived promptly at 1am. Provided a couple of options on how to fix my problem both in the short and long term and quickly made repairs. He also has provided advice on how to address issues related to the water damage caused by the busted pipe. This was one of the most positive bad situation we have had as homeowners. Thank you Dillon and mastertech.

read more

Michael Grote
20:35 26 Dec 19
I had to change my appointment at the last minute and they were able to accommodate my new availability without any hesitation. My tech was really

...

professional (Dillion). I got a call and a text to let me know he was on the way. He fixed my problem quickly and was so friendly. This is the second time that I have had to use a plumber and I will use Master Tech again since I have an old house with old plumbing.

read more

Leigh Burton
14:01 22 Nov 19
HVAC and plumbing under one roof, what else do you need?! Great team!

Our Real Time Service Area
Local Reviews
MasterTech Plumbing, Heating and Cooling
Rated
4.8
out of 5 stars based on
1361
customer reviews
Powered by Nearby Now
---
professional service
Julie

-

Columbia

,

MO



Review of MasterTech Plumbing, Heating and Cooling
the two plumbers who worked on several problems at my house were both professional and personable.
---
Our go-to resource
Paula

-

Columbia

,

MO



Review of MasterTech Plumbing, Heating and Cooling
Josh is top-notch. Whenever we have a plumbing issue we speed-dial Master Tech and know we'll get it taken care of.
---
Excellent Work
Jonathan

-

Columbia

,

MO



Review of MasterTech Plumbing, Heating and Cooling
They guys did an excellent job with the new system installation and answering all questions that I had. They worked to make sure everything works great and also looks great as well.
---
Josh B.
Repaired 2 toilets and replaced a bathroom faucet. Columbia
Near
Park Deville Pl,

Columbia

,

MO

65203
Tyson B.
Drain Columbia MO
Near
Lisa Dr,

Columbia

,

MO

65202
Josh B.
Cabled sewer to clear clog. Columbia
Near
Iris Dr,

Columbia

,

MO

65202
Tyson B.
Drain repair Centralia MO
Near
Co Rd 2000,

Centralia

,

MO

65240
Eliot D.
Cable the bathroom sink
Near
Jewell Ave,

Columbia

,

MO

65203
Our Columbia, MO water treatment experts will help you select the ideal water filter for your household.