Water Filtration & Water Treatment in Columbia, MO and all of Mid-Missouri.
Every home deserves clean, fresh water. Contact the MasterTech team at
(573) 777-3660
to schedule a free in-home water analysis and install the right water filtration system for your home in Columbia, MO and all of Mid-Missouri.
At MasterTech Plumbing, Heating and Cooling we believe that every home should be protected from hard water, chlorine, and other contaminants. 
As part of our commitment to helping our neighbors enjoy better water quality, we offer in-house financing exclusively for water treatment services. 
Give our Columbia, MO water filtration experts a call today to learn more about the different filter options available and treat your family—and your plumbing system—to cleaner, healthier drinking water! 
Should You Install a Whole-House Filter or Point-of-Use Filter?
While point-of-use filters are convenient, easier to set up, and easy on the budget, they aren't able to match the comprehensive treatment provided by whole-house filters. 
Point-of-use systems only treat water before it reaches the designated tap. Whole-house filters, on the other hand, treat your water before it enters your home.
If you are simply looking for clean drinking water in the kitchen, a point-of-use filter is an effective solution. But if you need to filter water from more than one source, whole-house filters are the better choice; they can protect your plumbing and appliances from contaminants, as well as deliver clean, fresh water throughout your home—including your shower, bathrooms, kitchen, and laundry. 
Let Us Help You Find the Right Water Filter For Your Home
An initial water quality test will help us provide you with the right type of filter. A common problem affecting water throughout the Mid-Missouri area is chlorine. While chlorine does help kill bacteria, it's not good for your plumbing and can even affect your health over time. 
Other contaminants typically found in our water supply include lead, nitrates/nitrites, and radon. Hard water is also common; this involves a high concentration of calcium and magnesium, and can cause your laundry to fade faster, leave your hair or skin feeling dry and itchy, and clog your plumbing system.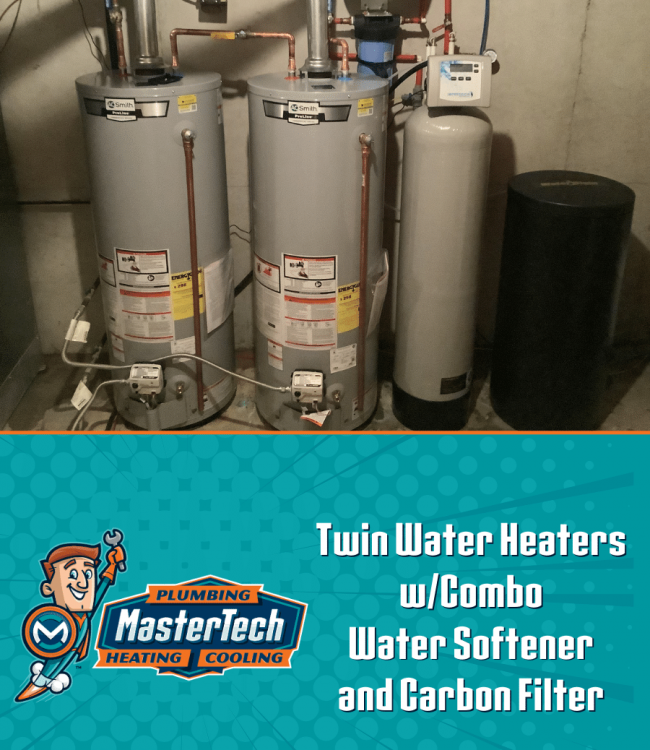 Our experts will supply you with the appropriate filtration system based on the contaminants affecting your water supply. These include:
Work With Columbia's Top
Plumbers and HVAC Experts
Whether you need your air conditioner repaired, a new furnance installed, or your drains cleared, MasterTech Plumbing, Heating and Cooling is happy to help.
Work With Columbia's Top
Plumbers and HVAC Experts
Whether you need your air conditioner repaired, a new furnance installed, or your drains cleaned, MasterTech Plumbing, Heating and Cooling is happy to help.
Contact Our Water Treatment Team Today
Leave your water quality issues to MasterTech Plumbing, Heating and Cooling. We are committed to our customers' peace of mind and will make sure your new water filtration system meets your specific needs. 
We can also help you repair, maintain, and replace your existing system so you can continue to enjoy clean water without interruption. Expect upfront pricing, personal attention, and quality solutions with every service call. 
Stop worrying about your water and start enjoying the benefits that come with a whole-house water filter—including great-tasting water, less plumbing problems, and appliances that last longer. 
MasterTech does all of our plumbing and HVAC work and has for years because they always do a great job. Most recently, we had a horribly clogged

...

toilet that we could not fix ourselves; they took care of that and checked other issues as long as they were at the house. All of their people are excellent and we always know we can count on them.

read more
Gary Buck was amazing! He arrived on time, identified the leak, and saved me money. Most importantly, he repaired the leak in about 2 hours as

...

promised. He was personable and professional. He explained the process and the warranty. Gary was helpful and honest about the repair. He even offered a suggestion and left an opportunity for a future addition. I will use Gary's services again! Thank you Master Tech Plumbing, Heating, and Cooling.

read more
We own a home built in 1880. The sewer problem was located beneath a brick fireplace a few feet away from the city alley. It would have been easier

...

to dig in from the alley, but it would have doubled the repair cost! The tech team (Nathan,Chris,and Fletcher) were determined to keep out of the alley and save us the extra expense!Upon toppling the fireplace they discovered it was resting upon a 5'x5'x28" cube (or larger) of concrete that would not budgeOn day 2 they began work around 9 am. It took nearly 3 hours of jackhammering to finally break the monstrosity apart and gain access to the collapsed pipe below.By 3 pm the sewer line was repaired!!! Way to go, Fletcher!!These guys deserve every dollar it cost us! They were ever so patient as I hovered over them the entire time photo-journaling their work! Can't praise this team enough!!

read more
So far I haven't used Master Tech to install or service anything, but I plan to. Gary came out to assess and give me an estimate on water heater

...

options. He was great! He was informative and not pushy. He was very knowledgeable and talked out the options with me and answered all of my questions and then some.

read more
Update to my original review - these guys are the best; I worked with Matt, Chris and Nate on a variety of issues from sewer line, to HVAC all around

...

the holidays when timing can be tough. They did it all very quickly with a ton of knowledge and were very kind. Their service convinced me to become a paying member for the yearly inspections/service and peace of mind. Highly recommend.

read more
These guys were great. Our tech, Nathan Rob, went above and beyond to give us a fair & competitive estimate, delivered timely and impeccable service

...

and checked in after repairs were done, to make sure everything was running good. We had a major sewer line replacement and had to deal with several different contractors. I wish I had know the possibilities of the extent of damage up front because I would have used MasterTech to complete the entire repair, instead of the multiple contractors that I used. The first contractors I used didn't have enough experience to complete the job from beginning to end and MasterTech did. Next time, they will be the first people I call.

read more
I highly recommend MasterTech based on my recent experience. I had an issue with my water heater, which is always stressful for a new homeowner.

...

Matt, the technician, arrived on time, was very friendly and knowledgeable, and presented me with options and information before beginning repairs. He quickly identified the issue and resolved it in about 30 minutes in the most professional manner. Can't recommend MasterTech highly enough! Very pleased to have found this company to add to my contact sheet of high-quality local repair/service professionals!

read more
I purchased a home about six weeks ago I needed someone to come in and replace the hot water valve in my laundry room. Gary the technician Was

...

incredibly friendly, and knowledgeable and efficient. He could not have been nicer and put me at ease immediately. I was able to ask any questions and he was created clarifying the information that I needed. I cannot recommend this company enough!

read more
Repaired leaking water supply line outside of the house. Tech came out same day and they were able to dig up & replace entire supply line 3 days

...

later. Just wish it could have been quicker, but it was not a critical leak & had to schedule the backhoe and utility locations

read more
Gary was PHENOMENAL! He was professional, kind and answered all my questions with knowledge and care. He was FAST and did a great job. I called

...

other places that were closer to me that never responded. I called MasterTech in Columbia and they were quick, the price was spot on AND they answered the phone! Thank you all for your hard work and dedication!David W.

read more
Excellent communication, service, and timeliness. Was able to get to me the day after I called. Was in constant communication with me (I live out of

...

town). Much better customer service than the other local plumber in the area.

read more
Everyone was very friendly and easy to work with. Nate was my technician. Very knowledgeable and checked everything to make sure there was no leak.

...

Really great service from everyone from start to finish. Reasonable rates for work.

read more
Our Real Time Service Area
Local Reviews
MasterTech Plumbing, Heating and Cooling
Rated
4.8
out of 5 stars based on
1361
customer reviews
---
professional service
Julie

-

Columbia

,

MO

65202



Review of
MasterTech Plumbing, Heating and Cooling
the two plumbers who worked on several problems at my house were both professional and personable.
---
Our go-to resource
Paula

-

Columbia

,

MO

65202



Review of
MasterTech Plumbing, Heating and Cooling
Josh is top-notch. Whenever we have a plumbing issue we speed-dial Master Tech and know we'll get it taken care of.
---
Excellent Work
Jonathan

-

Columbia

,

MO

65202



Review of
MasterTech Plumbing, Heating and Cooling
They guys did an excellent job with the new system installation and answering all questions that I had. They worked to make sure everything works great and also looks great as well.
---
Macenzie M.
Air conditioner not cooling Ashland Missouri
Near

Republic Dr,

Ashland

,

MO

65010
Matt M.
Indoor coil has ice in Ashland Missouri
Near

Republic Dr,

Ashland

,

MO

65010
Dillan W.
Air conditioner inspection and maintenance in Columbia Missouri.
Near

Dunmeyer Ct,

Columbia

,

MO

65203
Cris J.
Installing new toilet
Near

MO-124,

Harrisburg

,

MO

65256
Ryan H.
Drain cleaning in Columbia
Near

Meadowbrook Cir,

Moberly

,

MO

65270
Our Columbia, MO water treatment experts will help you select the ideal water filter for your household.