Drain Cleaning Services in Columbia, MO and
all of Mid-Missouri
Slow or clogged drains can be a sign of a more serious issue. It's important to have great water quality. Hard water creates build up that can snag other debris (hair, grease, organic material) causing a clog. Many people believe it is okay to use a caustic liquid to clear these drains. It's really not a good idea. Those retail drain cleaners can damage your pipes, leading to leaks and significant damage to your walls, floors and other areas of your home. The proper solution is professional drain cleaning from MasterTech Plumbing, Heating and Cooling.
Most people think of drains as those things found in the kitchen sink, bathtub/shower, bathroom sink, washing machine, etc. Those drains flow into the main sewer line. This line is often accessible via a floor drain, which you might recognize because it is a big hole covered by a lid with many holes in it. Most often this floor drain is near your water heater and/or HVAC system to allow those units to drain into it.
Your garbage disposal also ultimately flows into the main sewer line. Putting food scraps down your garbage disposal can lead to grease build-up in your pipes, which can ultimately lead to a major blockage. It's best to scrape off and wipe out bowls into a garbage can before rinsing them in your sink. If your disposal becomes jammed or causes a blockage, it's time for professional drain cleaning.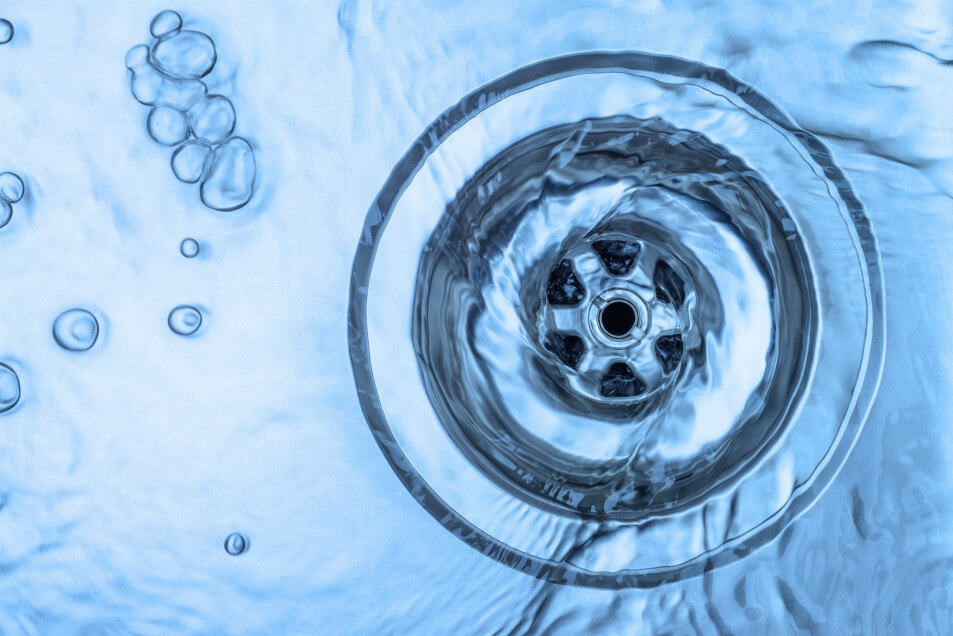 Mid-Missouri's Drain Cleaning Experts
Never pour liquid cooking oil from a fryer or grease from a skillet down your drain. Once it solidifies, you'll end up with a plugged sink drain that will need professional help to clear & clean it out. It could also be a significant contributor to a blocked sewer line, and trust us, you don't want that to happen!
If your sewer line gets clogged, it can create all kinds of disgusting, and expensive, problems in your home. Contaminated water, raw sewage, and other nasty stuff can fill your bathtub, rise up out of the floor drain and cause your toilets to overflow. You'll want professional drain cleaning services from MasterTech to get this problem fixed, and then we recommend hiring a professional restoration company to ensure it is properly cleaned up and your health is protected.
Work With Columbia's Top
Plumbers and HVAC Experts
Whether you need your air conditioner repaired, a new furnance installed, or your drains cleared, MasterTech Plumbing, Heating and Cooling is happy to help.
Work With Columbia's Top
Plumbers and HVAC Experts
Whether you need your air conditioner repaired, a new furnance installed, or your drains cleaned, MasterTech Plumbing, Heating and Cooling is happy to help.
What Causes Clogged Drains?
The most common cause of clogged sewer lines is roots. Trees, shrubs, bushes, etc send out underground tentacles to bring in water and nutrients. Unfortunately, these roots often invade into sewer lines where they have cracked or broken from ground settling. The roots then snag solid waste, mud, rocks, hygiene products, and wipes which leads to a blocked sewer line. Root intrusion is not "normal" in a sewer line, and if you are dealing with it year after year, then it's likely that more comprehensive repairs are needed. (i.e. relining or excavation and replacement). The first step is to have the sewer drain line professionally cleaned, then have it inspected with a camera. MasterTech offers a FREE camera inspection under these circumstances ($200 value)!
Do please understand that in some circumstances, the solution to a blocked or clogged drain requires a more significant repair. This can include:
clearing the sewer line and using a specialized process to "reline" the interior of the pipe
excavating a portion or the whole sewer line to replace it with modern materials designed to resist cracking/breaking and root intrusions
Fortunately, MasterTech is well-versed in drain cleaning services to get your drains flowing again and keep them in working order. We use a variety of methods to clean your drains. Our Master Technicians will provide you with a written, fixed price up front and get your approval before starting any work. Call us today to schedule a service call.
Gary was absolutely amazing. The quality of work and customer service received was wonderful. He was knowledgeable and explained everything, answered

...

every question I had, and was helpful not only in the problem we scheduled to address but saved us from a major issue down the road we didn't know we had. I 100% recommend MasterTech and Gary as your technician.

read more
Jon, the tech who came out, was very professional and friendly. I felt comfortable having him in my home, he worked quickly and efficiently, and he

...

was able to answer all my questions without making me feel like an idiot! I emailed them this morning, they responded quickly and Beth suggested their service plans, one of which I signed up for. It was a good experience, a little expensive but they were fast and I'm happy!

read more
Nate was timely, professional and knowledgeable. He was able to talk over different options for the installation of gas lines in my laundry room and

...

kitchen. I appreciate his willingness to try and make the job affordable while maintaining quality. 10/10 would recommend.

read more
Technicians were professional, highly knowledgeable. Service was top-notch.New HVAC system is astonishingly efficient both heating and cooling.

...

Everything was done right the first time, and the installation went extremely fast and flawlessly. Everything was explained to me in a manner that I could understand.Your staff is what makes the company great!

read more
Dillan was excellent. He came for my yearly inspection. He could have rushed through the process, but instead he made a recommendation and ended up

...

spending time in the attic installing a part that could save me more money and headaches down the road. In other words, he didn't cut corners. I appreciate that kind of top-notch service.

read more
Chris showed up as promised, evaluated our problem and offered a solution that gave my father the confidence to allow them to do the work. The

...

estimate was easy to read and made sense. The price was completely reasonable when everything is taken into consideration. These people talk the talk, walk the walk and plumb the plumbing!

read more
I've used MasterTech several times since buying my house in 2021. The office staff are always so friendly and helpful when I call and the technicians

...

always do a great job. Tyler and Kyle came out today to fix my AC and they were punctual, respectful, and friendly! They always end up teaching me helpful things whenever they come out to repair things and as a first time home owner, it's so helpful!

read more
Their employee Nate was fantastic. Had a leak at shut off under house and he helped us with that and never made me feel like a dummy with any of the

...

stuff had done to fix plumbing issues throughout house. He was very knowledgeable and friendly and gave some very helpful tips.

read more
Technician was timely, professional and courteous. He made sure I understood what was going on. And how best to move forward
The Plumber showed up on time and was very professional and courteous. He was able to unclog my sewer pipe very quickly and was reasonably priced! I

...

would definitely recommend them to family and friends! I will use them again in the future!

read more
Guys were able to quickly locate a coolant leak that could have been very expensive but found a much cheaper solution and finished it same day.

...

Installed surge protectors with warranty and got us cooled down again. Very professional and looked to take care of the customer.

read more
jacobcolethomas
20:05 12 Apr 22
Replaced old heat pump and back-up gas furnace with new similar equipment. Got good equipment at great price and absolutely excellent installation.

...

Installers put up with a lot of questions, were very professional, and did excellent work quickly. Couldn't be more pleased with Mastertech overall and especially with great service from the installation team and from the administrative staff. Definitely recommend them.

read more
Our Real Time Service Area
Local Reviews
MasterTech Plumbing, Heating and Cooling
Rated
4.8
out of 5 stars based on
1361
customer reviews
Powered by Nearby Now
---
professional service
Julie

-

Columbia

,

MO



Review of MasterTech Plumbing, Heating and Cooling
the two plumbers who worked on several problems at my house were both professional and personable.
---
Our go-to resource
Paula

-

Columbia

,

MO



Review of MasterTech Plumbing, Heating and Cooling
Josh is top-notch. Whenever we have a plumbing issue we speed-dial Master Tech and know we'll get it taken care of.
---
Excellent Work
Jonathan

-

Columbia

,

MO



Review of MasterTech Plumbing, Heating and Cooling
They guys did an excellent job with the new system installation and answering all questions that I had. They worked to make sure everything works great and also looks great as well.
---
Matt S.
Water line replacement. Moberly MO
Near
W Rollins St,

Moberly

,

MO

65270
Matt M.
Air conditioner tune up in Columbia Missouri
Near
Newcastle Dr,

Columbia

,

MO

65203
Gary B.
New water heater installation Columbia Missouri
Near
Audrain Rd 247,

Centralia

,

MO

65240
Dillan W.
Plumbing inspection and air conditioner inspection and maintenance in Columbia Missouri.
Near
Shenandoah,

Columbia

,

MO

65201
Dillan W.
Plumbing inspection and air conditioner inspection and maintenance in Columbia Missouri.
Near
Wren Wood Dr,

Columbia

,

MO

65202