Hydro Jetting Services in Columbia, MO and
all of Mid-Missouri
Get your sewer line cleared safely and effectively—call MasterTech Plumbing, Heating and Cooling at
(573) 777-3660
to schedule hydro jetting services in Columbia, MO and all of Mid-Missouri.
Most drain issues are caused by a blocked sewer line. Overflowing toilets, waste backing out of drains—these are common problems that are the result of clogging in your sewer line. If regular cabling methods aren't enough, we will recommend hydro jetting. 
The experts at MasterTech Plumbing, Heating and Cooling provide heavy-duty hydro jetting services throughout Columbia, MO and Mid-Missouri. Contact us today to discuss your drain or sewer problem and find out if your lines need to be jetted. 
How Does Hydro Jetting Work?
The process of hydro jetting is similar to pressure washing. This approach to sewer cleaning is designed to remove excessive clogging in your sewer line. It's powerful enough to flush out grease, sludge, corrosion, tree roots, and other debris. There are no abrasive chemicals used—just high-pressure water.
Hydro jetting is typically completed in three steps:
We will assess the health of your sewer line with a sewer pipe inspection before proceeding with hydro jetting. This gives us a chance to identify any pre-existing problems. For example, if there are tree roots in your line, we will need to cut them first; if your pipes look decayed, they may not be strong enough to handle the pressure of hydro jetting.
The initial inspection also gives us a clear picture of what's blocking your sewer line and where it's located. This then gives us a better idea of how much pressure to apply when cleaning out the line (between 2,000 to 4,000 PSI for most residential and commercial properties).
Once we have identified the source of the blockage, we will place a hose through the sewer cleanout and begin the hydro jetting process.
A second camera inspection is carried out after cleaning, to check on the results and ensure that there are no further problems.
Work With Columbia's Top
Plumbers and HVAC Experts
Whether you need your air conditioner repaired, a new furnance installed, or your drains cleared, MasterTech Plumbing, Heating and Cooling is happy to help.
Work With Columbia's Top
Plumbers and HVAC Experts
Whether you need your air conditioner repaired, a new furnance installed, or your drains cleaned, MasterTech Plumbing, Heating and Cooling is happy to help.
Hydro Jetting as Preventive Drain and Sewer Maintenance
If you are constantly having problems with clogging or backed up drains, you may need to have your sewer line cleared. Routine hydro jetting can help you avoid further plumbing problems and emergencies. This is particularly important in commercial settings, where you can't afford to have your plumbing down for long. 
We recommend scheduling time for hydro jetting every one or two years. With an experienced professional handling the equipment and water pressure, you won't have to worry about your pipes being harmed. 
Both of my recent needs were after hours. Out of the three plumbers that I called, Mastertech was the only one that responded and was able to help me

...

that day. That's huge considering we are renovating the main level of our house, and five of us are living in our basement with one bathroom, and the water was off due to a leak. There prompt service was much appreciated.

read more
Mathew did a great job this morning he was quick. Polite and friendly and just an overall great peoples person! He even helped out with my bathtub

...

drain so that I could give my toddler baths with ease. Thank you so much for being so friendly and providing quality work!

read more
We had two different plumbing issues this week and so we had the opportunity to work with two of their techs. Both of them were professional and

...

very helpful. Explained all of our options and really kept cost in mind. Thank you for such great service and for being so flexible with scheduling!

read more
Andy was right on time, and performed all of the work in a skilled, professional manner. I asked a lot of questions, and he explained every step of

...

the process and my options with patience and in clear terms. Andy cleaned and dried the area and his work was great. No more problems with that old Toto! Another good experience with MasterTech.

read more
Our tech did amazing!!! He found all the leaks we had in our gas line and got it all fixed in a day. We were on a time crunch and had to get it fixed

...

before Monday so he came out on Sunday and stayed until he was 100%sure the line was working perfect. Had about 5 more leaks than expected and he was kind, patient, and hardworking!! He had a wonderful attitude even with unexpected problems and even when a wrench slipped and cut his cheek. Would highly recommend this company for any piping issues!!!

read more
I had your technician, Max, and he was just awesome! I needed my washer ball valves replaced, but also he and I talked about my 13 year old sump

...

pump. Master Tech gave me the best deal for not only the ball valves, but also a new sump pump with a battery back up. Max was kind, friendly, professional and did a great job. I have used Master Tech in the past, with great results, and they ARE my go-to plumbing professionals!! Thanks so very much, Max and Master Tech!!

read more
It was hot! They got here fast and got the AC working quickly. Worth the service membership.070623: Came out to inspect our plumbing. Gave us a

...

great timeline for the next big projects we need. I appreciate the great and honest service.

read more
Matt, the technician was very professional, helpful and knowledgeable. Explained all my questions several times and several ways to help me

...

understand the procedure ,costs,and service agreement! Which gave me a huge discount. The service was performed by two very kind and professional service techs I don't remember their names . I couldn't believe how quickly they came out to do the work and how quickly they finished the job! It was completed the day after I called Master Tech. They were even careful to avoid my pepper plants. I am so grateful to have water again after they replaced my water line from the meter. All my problems were buried!

read more
Estimated costs given in advance and remained the same after jobs were completed. Plumbers were polite and ease to talk to. Jobs were completed

...

efficiently and in a timely fashion. As a result THEY are now MY plumbers and I signed up for the monthly service plan too.

read more
Our Tech Ryan was absolutely amazing! He was super sweet and explained everything thoroughly. He made such a stressful situation so much better by

...

his positive attitude and calm demeanor. Our problem was fixed in no time and life will "flow" so much better thanks to him.

read more
MasterTech does all of our plumbing and HVAC work and has for years because they always do a great job. Most recently, we had a horribly clogged

...

toilet that we could not fix ourselves; they took care of that and checked other issues as long as they were at the house. All of their people are excellent and we always know we can count on them.

read more
Gary Buck was amazing! He arrived on time, identified the leak, and saved me money. Most importantly, he repaired the leak in about 2 hours as

...

promised. He was personable and professional. He explained the process and the warranty. Gary was helpful and honest about the repair. He even offered a suggestion and left an opportunity for a future addition. I will use Gary's services again! Thank you Master Tech Plumbing, Heating, and Cooling.

read more
Contact Our Columbia, MO Hydro Jetting Experts Today
At MasterTech Plumbing, Heating and Cooling our solutions are designed with your best interest in mind. Our team of skilled plumbers follow a six-step approach to uncovering the source of your plumbing problem. Only by eliminating the source of the problem can you finally enjoy peace of mind and hassle-free plumbing.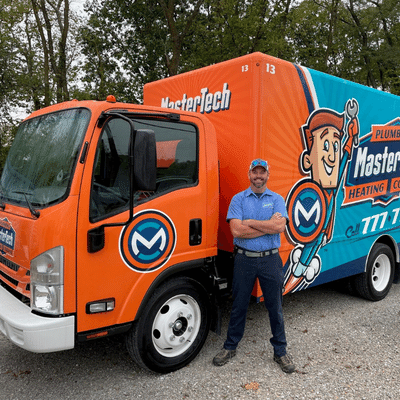 Local Reviews
MasterTech Plumbing, Heating and Cooling
Rated
4.8
out of 5 stars based on
1361
customer reviews
---
Ryan H.
Drain cleaning in Centralia
Near

Orchard St,

Centralia

,

MO

65240
Dillan W.
Air conditioner not cooling in Columbia Missouri.
Near

Spring Cress Dr,

Columbia

,

MO

65202
Matthew F.
Shower cartridge replacement in Mexico mo
Near

Sannebeck Dr,

Mexico

,

MO

65265
Blocked sewer lines can result in water damage and unhealthy conditions.